Scandinavia
Capital
Gothenburg
Language
Scandinavian
Religion
Protestantism
Demonym
Scandinavian
Area
1,129,567 km²
Population
18,731,902
Population density
16.6/km²
The United Scandinavian Kingdom or Scandinavia (Scandinavian: Skandinavien) is a country in Europe.
Geography
Edit
Fauna and flora
Edit
Environment
Edit
Administrative divisions
Edit
Municipalities
Edit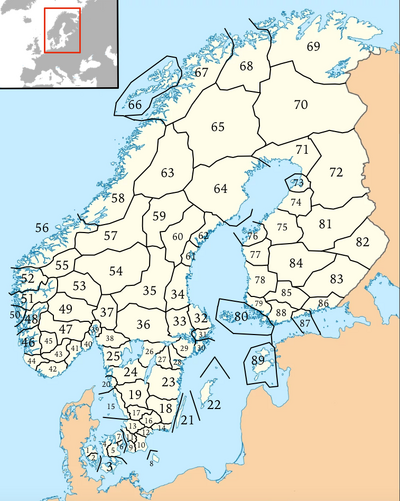 There are 89 Municipalities in Scandinavia. Each municipality has a municipal council, whose members are up for vote every five years. The councils must have an uneven number of members, and can have between 15-29 members.
Government
Edit
Foreign relations
Edit
Transport
Edit
Demographics
Edit
14,510,202 in Scandinavia.
3,201,809 on the Danish Isles.
1,019,891 on the Baltic Isles.
Languages
Edit