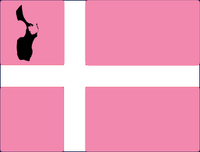 The Flag of Samsø is pink with a white cross that extends to the edges of the flag. In the upper left corner, there is a black figure of the island of Samsø. The flag was adopted in 1972 when Samsø gained independence from Jutland.
The pink symbolises the peaceful nature of Samsø, and its peaceful independence. The white cross represents Protestantism and symbolises Samsø's ties with Jutland and Scandinavia.
Ad blocker interference detected!
Wikia is a free-to-use site that makes money from advertising. We have a modified experience for viewers using ad blockers

Wikia is not accessible if you've made further modifications. Remove the custom ad blocker rule(s) and the page will load as expected.