Andorra
Capital
Andorra la Vella
Language
Iberian · Spanish
Religion
Catholicism
Demonym
Andorran
Area
468 km²
Population
104,001
Population density
222.2/km²
The Kingdom of Andorra or Andorra is a country in Europe.
Geography
Edit
Fauna and flora
Edit
Main article: List of animals in Andorra
Environment
Edit
Administrative divisions
Edit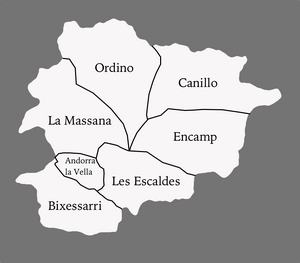 Government
Edit
Foreign relations
Edit
Main article: Foreign relations of Andorra.
Main article: Military of Andorra.
Transport
Edit
Demographics
Edit
Languages
Edit
Ad blocker interference detected!
Wikia is a free-to-use site that makes money from advertising. We have a modified experience for viewers using ad blockers

Wikia is not accessible if you've made further modifications. Remove the custom ad blocker rule(s) and the page will load as expected.